Download Now
The Free 30-Day Leadership Challenge
Become a Good Manager for Yourself, Your Team, and Your Organization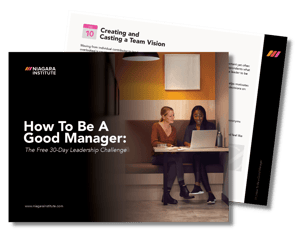 Understanding how to manage effectively can be challenging. Like most managers, you excelled in your functional role, which promoted you to management. However, as you quickly learned, the skills to excel as an individual are much different than what you need as a leader.
To help you on your leadership journey, we've compiled a 30-day leadership challenge filled with tips, tricks, templates, and resources to help you become a good manager. This self-paced workbook allows you to learn how to be a good manager at your own pace with actionable insights and tasks.
The 30-Day Leadership Challenge Contains:
A Micro-Lesson: Each day, you'll be given the knowledge on the what and how of the leadership topic of the day
A Task: Something to read or complete
An Action Item: A to-do to your action plan
This three-pronged approach is designed so that you come away with a foundational understanding of the skills and qualities needed to be a good manager, but you'll have taken action on the lessons you've learned to deepen your knowledge and practice new skills.