The Employee Experience in the Public Sector
9 Practical Ways Team Leaders Can Have A Positive Impact
Research has shown that everyday leaders, such as those with a manager, supervisor, or director title, are "the linchpin to a great employee experience." But how exactly can you create a great employee experience, support your own career, and contend with the public sector's most pressing challenges? Find out in the following guide, which provides everyday leaders with practical takeaways and highly relevant tools that can be used to do exactly that.
Download the PDF (English & French Included)
Building an organization that results in a positive employee experience has been a priority for leaders in the public and private sectors for several years now. Everything from employee retention to engagement, productivity, and performance is influenced by the experience someone has from the day they start at an organization to the day they leave. But who has the greatest influence and impact on employee experience during that time?
If you guessed everyday leaders like yourself, then you'd be right.
According to Gallup research, an employee's interaction with their direct manager is one of the most important factors to success over the entirety of the employee journey. In other words, it's you who "is the linchpin to a great employee experience." This is especially true given the current challenges and opportunities digital transformation, generational shifts, organizational culture, and change management have created.
While there are many academic reports on the suggested organizational transformation the public sector should undergo, this is not one of them. Rather, the following guide is for supervisors, managers, and directors - not those at the top, but everyday leaders, such as those who lead departments, teams, and projects - with practical takeaways and highly relevant tools that can be used to create a positive employee experience.
The Unique Challenges Facing Public Sector Leadership
Before jumping to the solution, it's important to note the current set of challenges and opportunities that may be directly or indirectly influencing your employee's experience on the job. By first defining the challenge those in the public sector currently face, we are setting the groundwork to implement a solution. As Albert Einstein famously said, "If I were given one hour to save the planet, I would spend 59 minutes defining the problem and one minute resolving it." Let's get started.
Digital Transformation Has Been Slow But Was Accelerated By COVID-19
Before the events in 2020, the public sector was significantly lagging behind the private sector in digital transformation, remote work, and upskilling to meet the needs of the future.
Granted, change has happened recently, albeit out of necessity. According to PwC, "[In Canada], government employees made one of the largest shifts to remote work, with 68% now working primarily remotely, compared to 2% before the pandemic." While this isn't the fundamental digital transformation needed to drive greater efficiency and improve the citizen/employee experience, it is a step in the right direction.
Similarly, in KPMG's Digital: It Is Not the Future, It Is Today report, it was noted that "in Canada, COVID-19 has rushed the adoption of a digital-first mindset across the public sector. Historically, digital was one of many service options, but now it often represents the only option. From citizen digital identities to public cloud adoption, to embracing a mobile workforce, all change is now on the table and delivery is rapidly increasing from coast to coast."
Just look at Ontario's Ministry of the Attorney General, who successfully transformed a largely paper-based and in-person justice system to predominately online and virtual services. According to an article by the Public Policy Forum, before COVID-19 digital transformation efforts were drawn out and overcomplicated. But in the face of the COVID-19 crisis, those efforts were no longer a nicety but a necessity. As a result, "the justice system [was modernized] 25 years in 25 days," according to one employee.
These digital transformations are positively influencing the employee experience, as found in IDC's report, How Employee Experience Can Drive Digital Transformation: "Employees want to feel valued and empowered with the right tools and technology. They want to have the autonomy to achieve self-actualization through their own work. Over half of European companies agree that outdated device technology is preventing their organization from being more productive and agile - and this is having an impact on employee happiness and engagement."
The Rise (And Demands) Of A New Generation Of Employees
By 2025, Millennials (43.1%) and Gen Z (20.7%) will make up the majority of employees according to the global labour force participation rate. Moreover, between 2020 and 2025, the tech-native generations of Millennials and Gen Z will replace Gen X and Baby Boomers as the dominant generation in the workplace.
As this generational shift occurs, the success of the public sector will be contingent on its ability to attract and retain the next generation of employees.
Fortunately, the Public Policy Forum's report, Building a Dynamic Future: The Next Generation of Public Service Talent, indicates positive interest as millennials were asked about their perceptions of the public sector and what would compel them to pursue a career in the public sector. Note that the findings reflect the values of a generation who have grown up in a financially turbulent, digital, and increasingly socially conscious world.
On the whole, students and young professionals view public services as unique organizations where ambitious, talented, and conscientious people can work collectively for the public good. Most participants agreed that public service work can be "challenging and rewarding – an opportunity to contribute to something bigger than yourself."

Students and young professionals alike continue to see public services as one of the few large employers that can offer secure employment in an increasingly uncertain economy.

Students and young professionals are drawn to organizations, such as those in the public sector, that can provide enriching work experience and that fulfill their desire for a career, not just a job.
While these findings are positive, the report does point out that "many people lack understanding of what public service work entails and the career options available. A discrepancy, therefore, exists between common perceptions of public service and actual public service experiences, which are often diverse and dynamic." Not to mention, these same workers "have innovative new types of careers and employers to choose from, including social entrepreneurship, corporate citizenship jobs, and NGOs" (Deloitte).
All of this is to say that if the public sector is to attract up-and-coming talent, engage them, and retain them long-term, then the employee experience playbook needs to be rewritten, and fast.
Culture Continues To Be A Concern
Every organization has its own unique culture. Gallup defines organizational culture simply as, "how we do things around here." In the private sector, 78% of executives said culture is among the top five things that add value to their company. Culture is how you attract and retain talent, acquire customers, build brand advocates, create alignment throughout an organization, drive employee engagement, and ultimately increase performance.
The events of 2020 have highlighted the importance of culture. In the 2021 Global Culture Report, they found that organizations who went into the pandemic with a strong culture dramatically fared better than those whose cultures were already struggling.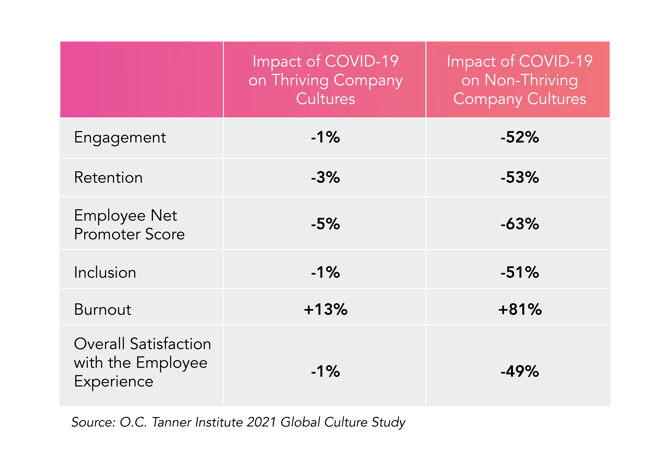 As important as culture is to success, there are barriers to changing the culture in the public sector. In a white paper published in 2020, Overcoming Challenges to Implementing Change in Canada's Public Sector, they state, "Public sector culture runs on long-term norms, and many things are done 'because that is how they have always been done.' This is good because it means that once employees and the public fully understand what is expected of them, processes run smoothly and consistently. It is problematic because it means that processes are not always as efficient as they could be."
When a culture is defined by historical processes and risk aversion, as in the case of the public sector, employees may not feel empowered enough to speak up when they see a better way. Even if they do bring forward input or ideas for innovation, change, and process improvements, their engagement will quickly falter if those ideas are dismissed as a result of complex hierarchical structures and approval processes.
A global report by McKinsey highlights the challenges individuals face in a risk-averse organizational culture: "A bold experiment that improves service for the majority of recipients are unlikely to win kudos for the responsible civil servants if a small number of vocal citizens complain about the change. Likewise, a public-sector manager who succeeds in improving efficiency in his or her department might be "rewarded" with a reduced budget - but punished with a poor performance review if the effort fails." While somewhat pessimistic in tone, the premise rings true.
Those leading teams in the public sector face the unique challenge of working within the defined culture, while also creating an atmosphere that engages their employees with the work at hand. As much as one person cannot change the culture, a team leader's beliefs and behaviours do influence those they manage. In fact, it has been found that managers account for upwards of 70% of the variance in employee engagement scores.
The Challenges of Implementing Change
Whether you work in the public or private sector, large sweeping change initiatives are rarely a success. According to McKinsey's global report titled, Putting People at the Heart of Public Sector Transformations, 74% of private-sector transformation efforts fail to meet their objectives, while in the public sector, the failure rate is 80%.
So, why do so many initiatives fail? Here are a few of the most common reasons:
Lack of buy-in and support from leaders and employees

Communication is either infrequent, unclear or entirely absent, that would otherwise give employees a purpose for the change and a reason to participate

Lack of support in regards to training and resources

Fatigue from "flavour of the month" initiatives (in other words, initiatives are rarely, if ever, seen through to completion)
In a large, complex, and often siloed organization in which many public sector employees find themselves, combined with public scrutiny, change is slow to happen. In the same McKinsey report, it was noted that, "many major change efforts must work across multiple government departments or agencies, as new-generation solutions do not usually fit neatly within existing portfolios. Each institution involved in a transformation is likely to have distinct strengths and gaps in capabilities and frequently conflicting motivations. The implication for change leaders is that they must invest time and energy in building support and collaboration from people they do not directly influence."
For team leaders to drive change, not only do they need to work with and influence those within their control, but they must also build relationships and partnerships with those in other departments that have their own priorities, expectations, and challenges.
For supervisors, managers, and directors across the public sector, finding ways to overcome the pitfalls of slow digital transformation, not meeting the needs of a new generation of employees, historical norms and culture, and a resistance to change, it will be imperative to creating an employee experience that employees want to be part of.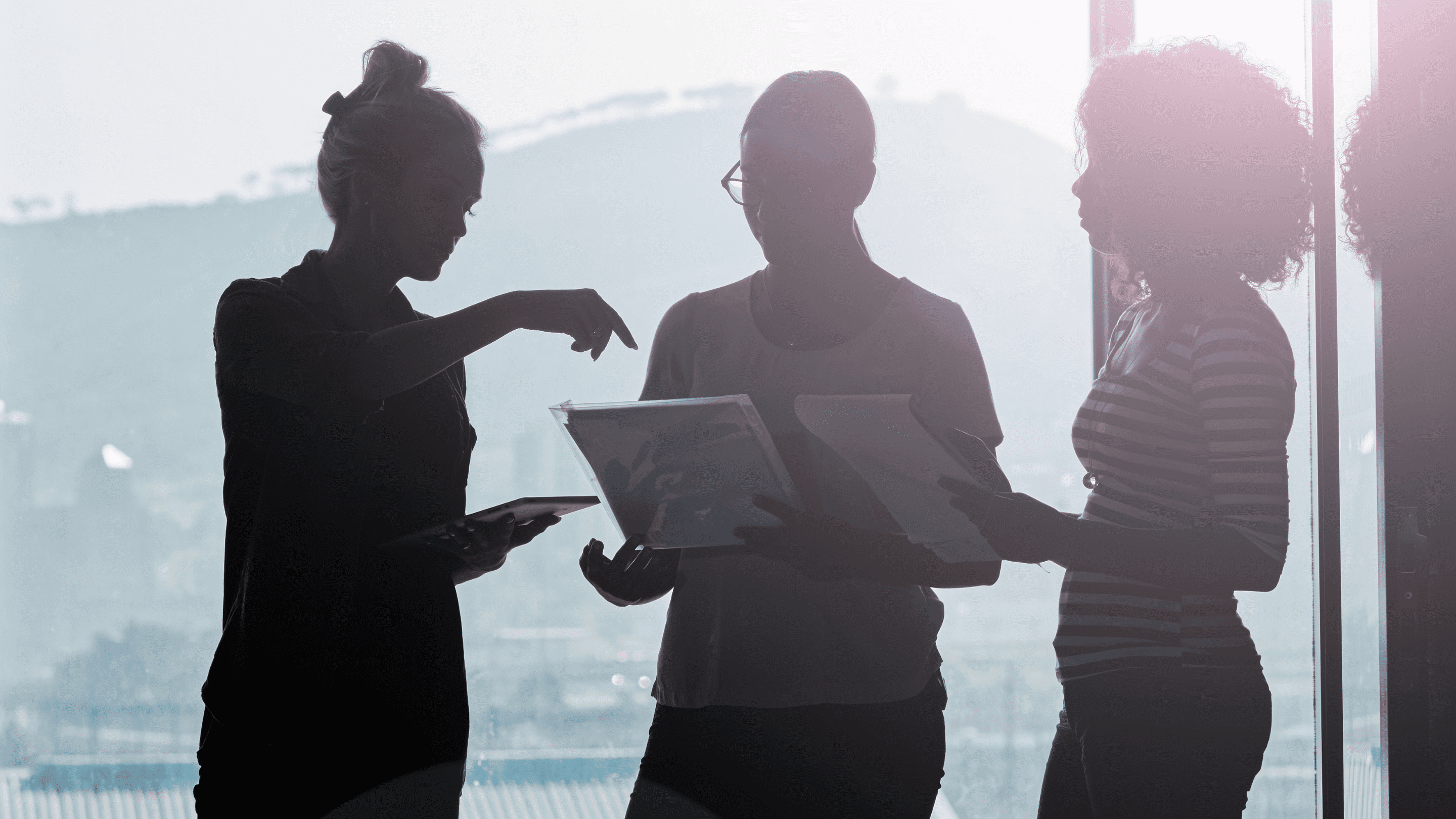 Conclusion: Invest in Your Own Development to Maximize Your Effectiveness in the Public Sector
With the ideas outlined in this guide, you should be prepared to make small but meaningful efforts that contribute to a positive employee experience. Granted, there will be challenges along the way. In which case, let this Edward Everett Hale quote serve as your inspiration to forge on: "I am only one, but I am one. I cannot do everything, but I can do something. And I will not let what I cannot do interfere with what I can do."
In addition to the tips outlined in this guide, you can maximize your effectiveness by investing in your own development. In fact, it is imperative you do so as highlighted by a study the Chartered Management Institute (UK) conducted with over 4,500 managers, CEOs, and HR directors. According to their research, in the public sector "leadership development can have an overall impact on organizational performance of 23%, while any increase in manager effectiveness could drive improvements in public service delivery and economic growth." On top of that, another study found that an investment in your own development can lead to a 20% increase in overall job performance, a 28% increase in positive leadership behaviours, and an 8% increase in the performance of your direct reports. In other words, the time, resources, money, and energy you put into your own development has far greater impacts beyond just yourself.
Fortunately, providers, like the Niagara Institute, are here to support the training and development needs of everyday leaders in the public sector. In our 50 year history, we've had countless public sector leaders enroll in open-enrollment training programs to develop their leadership skills and engage in one-to-one coaching to discuss confidential issues, debrief experiences on the job, apply lessons from a training program, or support a major job transition. Though, whichever development activities you may choose, any investment in your leadership development will support an improved experience on the job for yourself and those you lead.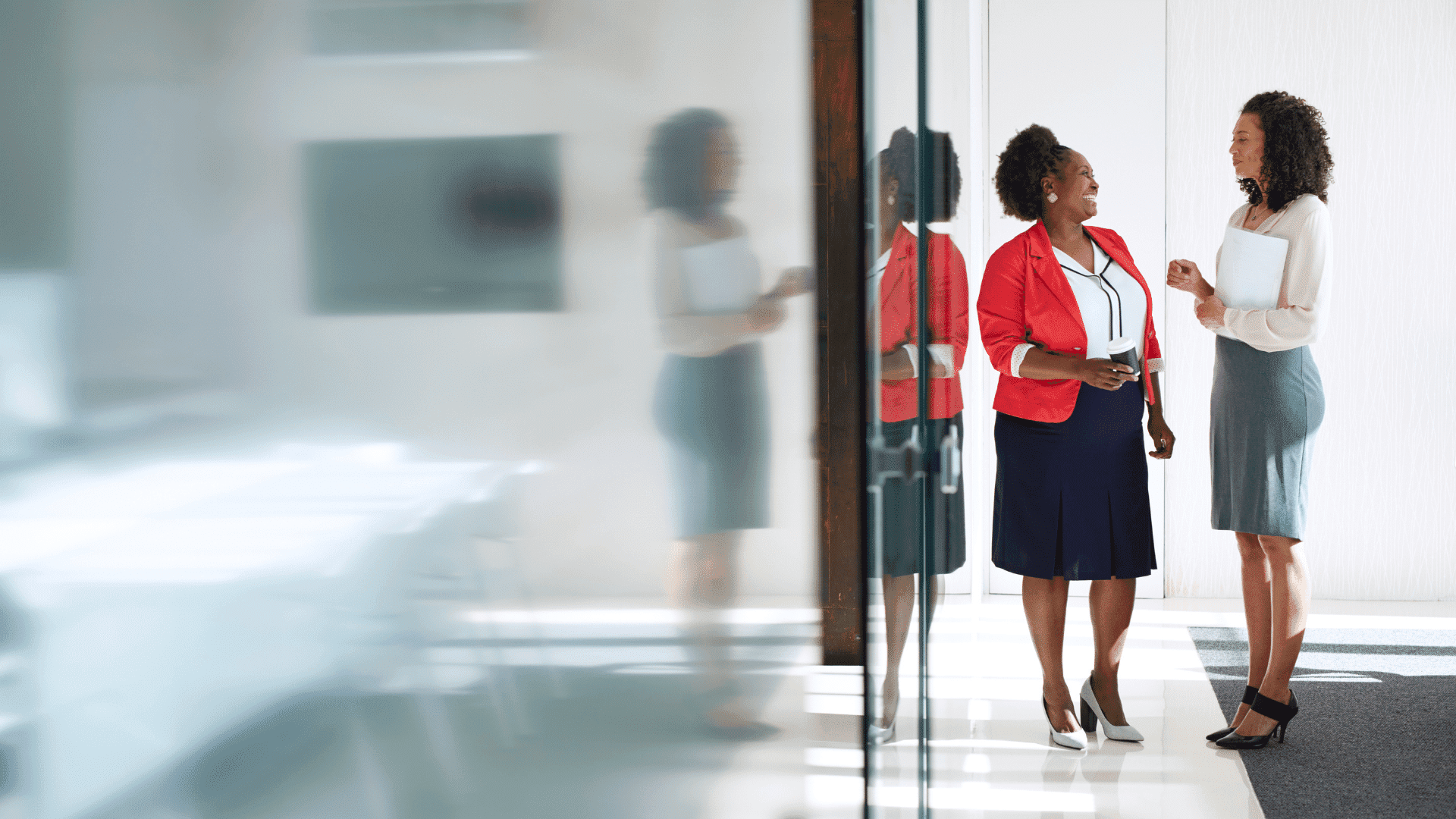 Get Your PDF
Save This For Later
After filling out the form, we will send you to the PDF version and also a copy to your email so you can file it away or share it with other people leaders like yourself.