The Staff Meetings Toolkit:
Lead the Meeting You've Always Wanted to Attend
Everyone wants to attend staff meetings that are succinct and productive. However, this is often not the reality. Fortunately, if you host staff meetings, then you are in a position to change that. To do so, start by downloading this toolkit, which contains everything from best practices to fully editable templates.
Download the PDF (English & French Included)
Introduction
Leadership abilities come to bear in different situations in the workplace but are front and center for employees when a leader runs a staff meeting. It may not be a fair assessment of your leadership capabilities, but in these times when they're on full display to everyone, like it or not, employees assess you based on how well the meeting is run.
Given that a staff meeting can encompass either the entire organization, a department, or just your direct reports, you will likely frequently find yourself in this situation, as leading meetings is a large part of any leader's role.
As such, you may feel compelled to run the best staff meetings you possibly can. In which case, you're in the right place as the following toolkit contains everything from best practices to editable templates. By applying its contents, you will be one step closer to making your staff meetings, big or small, the kind of meeting you always wanted to attend as an employee, valuable, productive, and worth your time. Let's dive in.
What Is the Purpose of a Staff Meeting?
If you've ever attended a poorly run staff meeting, you may have asked yourself, "What is the purpose of this staff meeting?" To be clear, the purpose of a staff meeting is to engage, align, deliver transparency, inspire collaboration, and strengthen team and company culture. Staff meetings are also a prime opportunity to make employees feel connected to one another, the organization, and the purpose of their work. Common purposes and staff meeting agenda topics include:
Sharing updates on financials, targets, and goals
Exchanging information and best practices
Strengthening

team cohesion

through a team-building exercise
Collaborating on planning, problem-solving, or capitalizing on an opportunity

Recognizing achievements

and celebrating milestones
Providing learning opportunities
Answering questions and

sharing feedback

in an open forum
Driving alignment and reinforcement of the mission, vision, values, and strategy
Announcing new initiatives/policies
All of which is to say that every minute an employee spends in a meeting is time away from their work. So, before scheduling, you need to consciously decide its purpose, the staff meeting topics, and if the opportunity cost of removing people from their work is worth it. Then, you need to communicate that purpose beforehand so that everyone set to attend knows why the meeting is taking place and understands the value of them attending.
Staff Meeting Agenda Template and Best Practices
Agendas are the first impression of what to expect from the meeting you're leading, whether it's a team meeting or a huddle meeting. For example, staff meeting agendas sent before a meeting signal to attendees that this is a well-thought-out and productive use of their time, and 64% of employees said they're more excited about meetings when they are well-planned. However, researchers found that not much thought goes into the agenda as most stay the same meeting after meeting.
To help you ensure your staff meetings are a hit and avoid trial and error as you formulate your staff meeting agenda, we've compiled our list of 10 tips and tricks to adopt as you build your agenda.
Ensure the objective of the staff meeting is crystal clear; you may even want to make the purpose the title for the staff meeting
Provide thought-provoking questions and discussion points in the agenda to allow attendees time to think and prepare
Articulate the goal(s) for the meeting
Limit the number of topics
Select topics that are of interest to all attendees
Share the agenda at least 24 hours in advance
Ask for input on the agenda; create a sign-up sheet where individuals can add their ideas
Make each agenda item timebound to ensure all topics are covered and have an owner
Seek out multiple speakers, so the meeting is not dominated by one person
Attach additional documents to the meeting agenda and reference them in the agenda
And most importantly, follow the agenda at the staff meeting!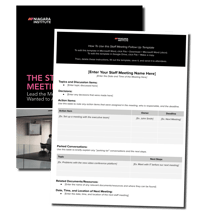 Download the template
Editable Staff Meetings Agenda Template
Staff Meeting Ground Rules Examples
Many of the common grievances attendees have regarding staff meetings can be addressed by setting ground rules. Ground rules are a set of norms and behaviors that everyone agrees to follow for the staff meeting to not only meet its objective, but for it to be a constructive and inclusive environment, rather than a destructive one where feelings get hurt, turf wars start, and egos get in the way of meaningful progress.
Ideally, you would set staff meeting ground rules in one of your first meetings as a team, though if you haven't yet, there's no better time than the present to do so. Also, if you set ground rules for your staff meetings alone in a silo and then tell your staff to follow them, it will likely have the opposite effect of what you intend. So, be sure to brainstorm and create a set of ground rules as a group and then get agreement from everyone that they are willing to stick to them going forward.
To help you get started, here are some examples of staff meeting ground rules that you are free to use or build off of.
Stay mentally present and fight the urge to multitask.
Attack problems, not people.
There is no such thing as a stupid question or idea.
It's okay to say, "I don't know."
Silence electronics. If you're expecting an urgent call or message, give the group a heads up.
Start and end on time. Then, if the conversation isn't done, collectively decide another time to pick it up.
Think about how it can be done, not about how or why it can't.
Save criticism or constructive feedback for individuals for another time.
Listen to understand
If you're going to oppose an idea, be prepared to propose an alternative
20 Questions to Ask During Staff Meetings
When it comes to staff meetings, asking the right questions can make all the difference in the level of engagement you see from attendees, the quality of the conversation, and the likelihood of achieving the objective of the meeting. Of course, the questions you choose to ask need to align with the purpose of the meeting and the agenda you have set. To give you an idea of the kind of questions that spark engagement, feedback, and innovative thinking, here are 20 possible questions to ask in your next staff meeting.
Questions to Use to Kick Off a Staff Meeting
What has been the highlight of your day so far?
Are you working on something cool or exciting right now?
Is there anything you would like to learn from or contribute to this meeting?
What did you do/accomplish since we last met that you're proud of?
Are you facing any obstacles right now? If so, how can we help?
Questions to Help Solicit Feedback
What do you think our biggest challenge as a team is?
Is there anything we should start, stop, or continue doing as a team?
What (or who) is missing from our team? What is the level of urgency associated with this? How can we work around it with what we have?
Do you feel our staff meetings are a good use of your time? If not, what would change your mind?
Is there anything we don't cover in our staff meetings that you'd like to have included next time?
Questions to Learn About the Team's Workload and Capacity
How heavy is your workload right now on a scale of 1-10?
Have you taken on an unexpected task or project? How is this impacting your existing responsibilities and deadlines?
Are any projects or tasks not going according to plan? If so, what needs to change?
What tasks are your biggest time sinks? Should they be offloaded or eliminated?
What's your outlook on your workload between now and our next meeting?
Big Picture Questions
Is there anything holding us back or making it difficult to achieve our goal/mission?
What's one thing our team would be crazy not to do in the next month/quarter/year?
What are our team's greatest strengths? Weaknesses? Opportunities? Threats?
Does change make you excited or nervous? What would make you more confident in the face of change at work?
What is something you have seen others doing that you think could be a relevant opportunity for us?
4 Tips for Keeping Staff Meetings on Track and Avoiding Tangents
In a survey of 757 workers in the United States, the number one choice for the most significant meeting challenge was tangents and off-agenda conversations. Tangents can be highly frustrating to attendees. Meeting attendees have agenda items they want to address or hear about, only to have them missed due to a lack of time, as off-topic conversations monopolized the meeting.
Leading a staff meeting requires addressing off-topic conversations. Here are four ways to stop tangents when they arise.
Deploy the Parking Lot - When someone brings up a new discussion topic that isn't part of the agenda, take note of it and announce that you will add it to the next agenda.

Circle Back to the Agenda - Interrupt a tangent by asking that the agenda and subsequent time allotment are followed to ensure all topics are covered in the meeting.

Keep the Goal Top of Mind - A quick reminder of the purpose and goal of the meeting is a surefire way to get the discussion back on track when a tangent takes over.

Take It Offline - Some tangents and conversations only involve a few individuals. If the off-topic discussion is for a small group, interpret the tangent and ask it be discussed outside of the staff meeting.
Staff Meeting Follow Up Template and Email
For a staff meeting to produce results and truly meet its objectives, leaders must send a follow up email after the meeting to attendees. The follow-up should provide an overview of what was discussed or decided, outline the assigned action items, provide any related documents or resources, and remind attendees of the date of the next meeting.
Here is a staff meeting follow-up template for you to fill out and an email template to send to attendees to make this step that much easier.
Subject Line: For Your Review - [Date] Staff Meeting Follow-Up
Email Body:
Hi All,
Thank you for attending and participating in our most recent meeting. As promised, I have documented what was discussed, decided, and assigned to each of you in the attached document.
I'd ask that you please review it and reach out if you have any questions. I will be in touch with each of you between now and the next time we meet ([Insert Date and Time Here]) to see how you are making out on your action items and to provide help as needed.
Until Next Time,
[Your Name]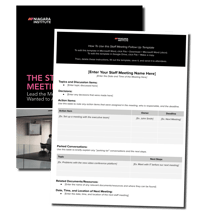 Download the template
Staff Meeting Follow Up Email Template
Next Steps: Learn to Lead Better Meetings with Niagara Institute
Hosting staff meetings is vital for leading effective teams and keeping them engaged. With this toolkit, you should now be equipped with the templates and tips you need to run great meetings from start to finish. Of course, many people leaders find it especially helpful to enroll in a training program that builds their leadership skills and their confidence. If this is something you would benefit from, look to a provider like the Niagara Institute, which provides everything from leadership to communication programs and whose programs are designed with the needs of the everyday leader in mind.
Get Your PDF
Save This For Later
After filling out the form, we will send you to the PDF version and also a copy to your email so you can file it away or share it with your colleagues.