5 min read
How to Create a Meeting Survey (+ Questions You Should Ask)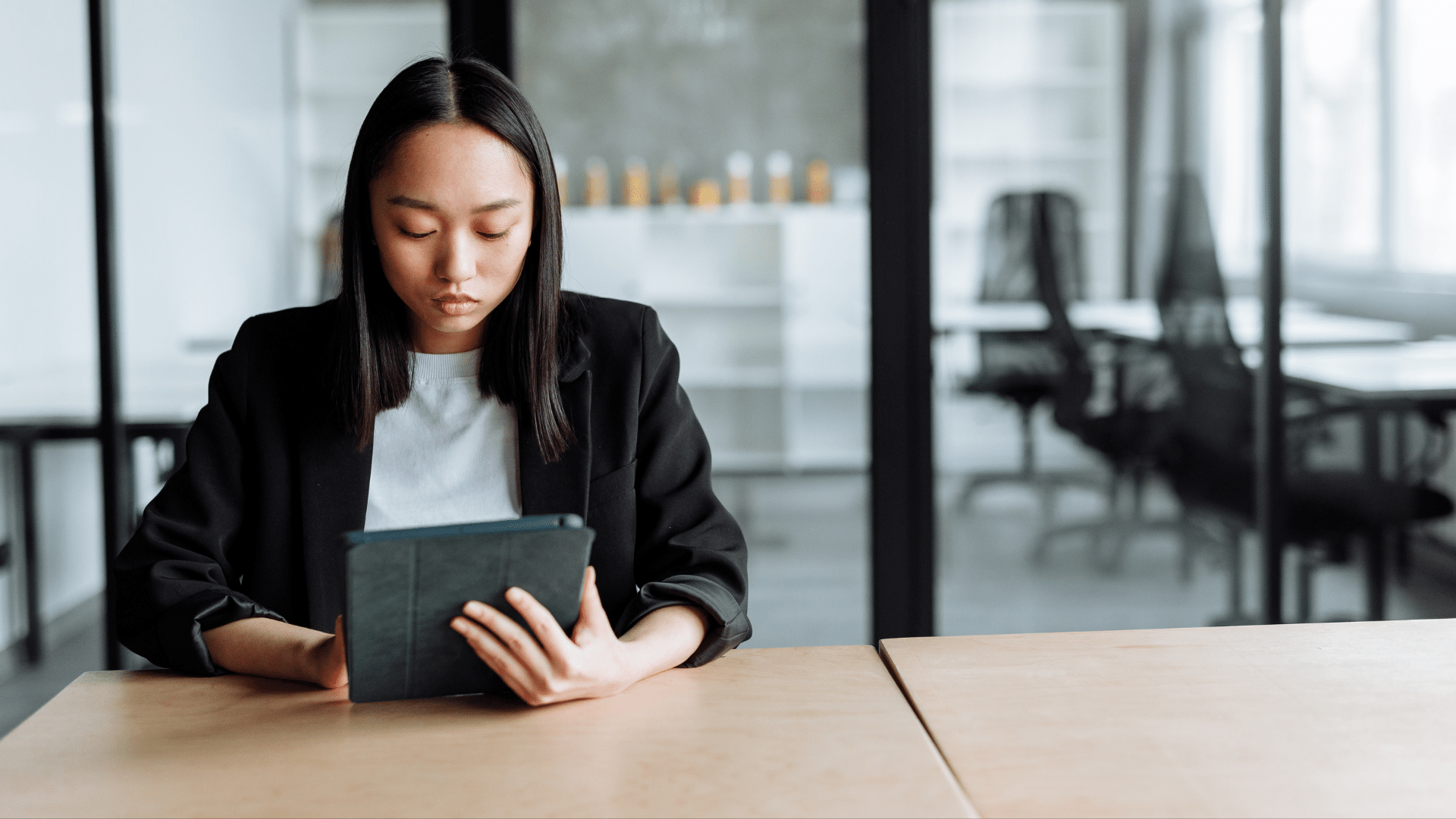 From daily team huddles to weekly one-on-ones to monthly staff meetings, hosting meetings of all shapes and sizes is a large part of leadership. When done well, these meetings can open the lines of communication, inspire collaboration among employees, spark creative problem-solving, and move you all collectively closer to your goals and objectives.
However, unfortunately, this is not always the case. Over time or without the appropriate tools, the effectiveness of your meetings can falter, and with it, so can participation, engagement, and enthusiasm.
One way to keep this from happening is to actively seek out feedback from the participants of your meetings. While it can be challenging to ask for constructive feedback and even more difficult to accept and then apply it, feedback is one of the best ways to keep any of your meetings from becoming stale or "a waste of time."
In the following article, we'll review what a meeting survey is and the questions you should ask, as well as provide you with a sample and a template you can apply the next time you see the effectiveness of your meetings drop.
What Is a Meeting Survey?
A meeting survey is a series of questions posed to participants after a meeting concludes. The purpose of circulating a meeting survey is to receive constructive feedback and identify the strengths and weaknesses of yourself and the meeting you hosted. With this information, you can then pinpoint what skills or tools you need to implement that feedback.
17 Insightful Meeting Survey Questions
Every leader wants to host meetings that leave their participants energized and prepared to take action. The following post-meeting survey questions will help you determine if you're doing it. You should consider how many questions you want to ask and choose the ones that will get you answers about your effectiveness as a meeting host.
Was the meeting agenda sent out early enough for you to adequately prepare? Were any related documents/files included?
Was the meeting objective/purpose clear? Do you think it was achieved?
Did the meeting start and end on time? Was I (the host) respectful of everyone's time?
Was the meeting agenda followed?
Were ground rules set and followed throughout the meeting? If not, did I (the host) rearticulate the ground rules?
What was the atmosphere of the meeting? Was it positive or negative?
Did the meeting feel like a safe space where you could share your concerns, ideas, or opinions with me (the host) and other participants?
Did you have the opportunity to contribute to the meeting?
Were tangents quickly addressed and attention diverted back to the matters at hand?
Were the next steps clearly identified and assigned to individuals with a fair timeline?
Was the meeting too short/too long? Was the pace too quick/too slow?
Were important but not relevant conversations tabled and noted for later discussion?
Was there something you wanted/expected to discuss that wasn't? If yes, what was it?
Is there something the host can do to make the next meeting better?
Did the meeting leave you feeling energized, motivated, and supported? If not, what could I (the host) have done to make you feel that way?
Were you clear on what was expected of you when you left the meeting?
Was the meeting valuable? Did it move us forward toward our goals?
A Sample Meeting Feedback Survey Template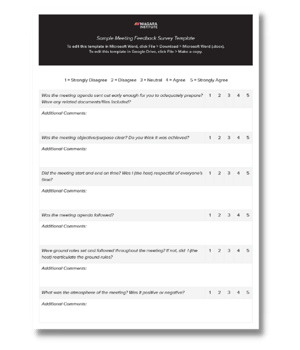 When it comes to making this a reality, you have a few options. You can keep it simple and use our sample meeting feedback survey template. It is created in Google Docs so you can edit it to your liking, delete unnecessary questions, and then either send it as is, download and email it as a Word document, or print it out.
On the other hand, you can use Google Forms, a free and easy-to-use online survey creation tool, to create your meeting feedback survey. Unlike this previous option, this option allows for anonymous responses, which may reduce the resistance some participants may feel when providing their boss with constructive feedback.
If you choose to use Google Forms to create your meeting feedback survey, here is a high-level overview of how to do that.
How To Create a Google Form Survey for Post-Meeting Feedback
Sign into Google or sign up for a free account.
At the top of the page where it says "Start a new form," select the "Blank" option.
Where it says "Untitled Form," give your meeting survey a name. At this point, also write a brief description where it says "Form Description." This is a good opportunity to reiterate that this is to help you improve your meetings and that you're looking for honest and constructive, yet respectful feedback.
Below that, where it says "Untitled question," you are going to start inputting the questions either from above or that you came up with yourself.
To the right of where you input the question, change the type of question from "multiple choice" to "paragraph" using the drop-down menu.
Check off "required" if you want to be sure to get answers to a specific question.
Use the "Add Question" button that looks like a plus sign on the right-hand side and repeat steps 4-6 until you have inputted all your questions.
Once all your questions are inputted, switch to the "Responses" tab at the top of the page and ensure "accepting response" is turned on.
Next, switch to the "Settings" tab at the top of the page. Here you can decide things like whether or not an email is required to submit answers or if a participant can edit their answers later on.
At this point, if you want to make edits to how your form looks, use the "Appearance" button, which looks like a paint palette at the top right.
Once you are done, use the "Preview" button that looks like an eye to ensure your survey looks as it should and test it out.
Now you're ready to send out your meeting survey! Use the "Send" button in the top right to either send it directly from Google or generate a link that you can paste into any app such as Outlook, Zoom, or Teams.
Conclusion
Whether you've been leading a team meeting with the same group of people for years or are a first-time manager who has only hosted a handful of meetings, a meeting survey is a powerful tool that can help you take your leadership to the next level. Of course, to see its benefits, you must be prepared to put the feedback you receive into action, no matter how hard it may be to hear. If you can do so, you'll find that not only will your confidence grow, but so will your participant's confidence in you as their host and as their leader.