5 min read
Skip-Level Meetings 101: A Brief Guide for Middle Managers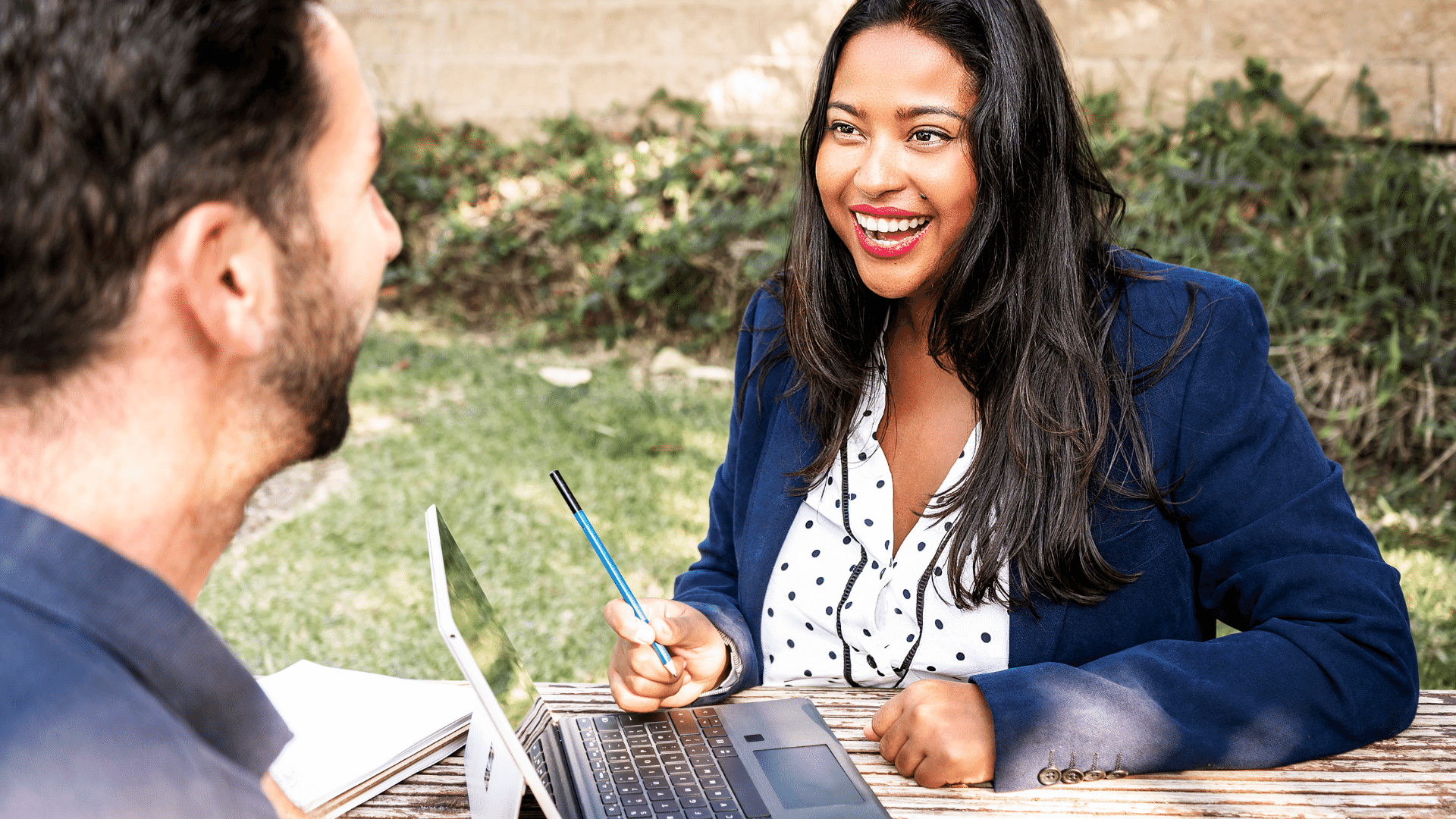 It can be tricky for middle managers, who are by nature quite removed from the day-to-day life of those on "the frontline," to get a feel for what's happening and how everyone is really doing. So much of their time is spent in the company of their fellow leaders and team of managers, that they rarely hear things directly from the source.
For that reason, skip-level meetings exist.
In the following article, we'll review what skip-level meetings are, the benefits, and the common problems and provide a checklist of sorts that middle managers can use to set themselves and those they are meeting with up for success.
What Is a Skip-Level Meeting?
First, let's define what exactly a skip-level meeting is. A skip-level meeting is when a middle manager or executive "skips" and meets with their direct reports' employees. The most common purpose is to get a "pulse" on the day-to-day operations and company culture, strengthen relationships, build trust, and identify concerns, challenges, or opportunities for improvement.
According to the Vice President of Human Resources at CBS Corp., Marlene Baez, skip-level meetings are "simply an informal way for leaders to understand how management is handling things while gaining a quick pulse on the mood or general satisfaction level of the team. These meetings should be encouraged to ensure full transparency and access to middle and upper management."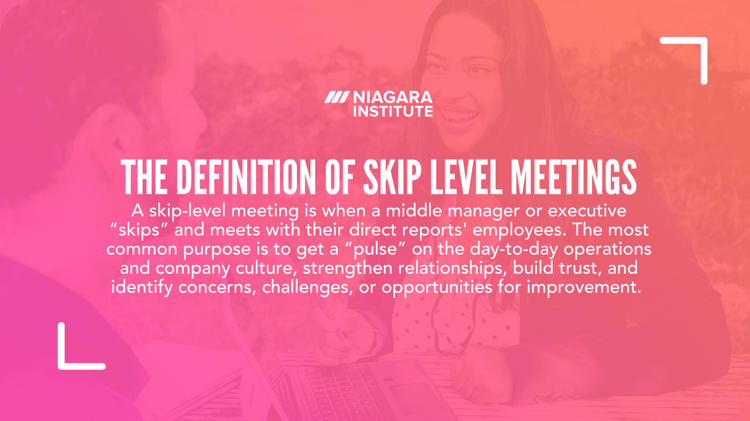 The Benefits of Skip-Level Meetings are Two-Fold
Skip-level meetings benefit both the middle manager and the employee they are meeting with. From the perspective of middle management, it allows them to open the lines of communication, build trust, create transparency, motivate and encourage employees, and reiterate something their managers have said previously.
On the other hand, it is common for employees to feel disconnected from those in leadership positions above their direct manager. So for them, skip-level meetings are a chance to put a face to the name of the person "pulling the strings," develop a positive working relationship, ask big picture questions, voice concerns, and offer constructive feedback.
A Word of Warning About Skip-Level Meetings
While the purpose of a skip-level meeting is valid, and the benefits are coveted among those in middle management, this type of meeting does not have the best reputation in the workplace. As one article pointed out, "If your manager's direct report suddenly receives a calendar invite from you for a meeting without any context, they might panic. What's wrong? Did they mess something up? Are they going to get fired?" They may also find the meeting itself uncomfortable and be unwilling to speak candidly or offer constructive feedback if they fear it could damage their working relationship with their direct leader.
As for your managers, they might be uncomfortable with skip-level meetings if they believe you are trying to "get the dirt" or even possibly undermine them and their hard work.
5 Steps to Set a Skip-Level Meeting Up For Success
When it comes to skip-level meetings, you want to avoid creating unnecessary panic and unease among your team of managers and the direct reports of theirs that you wish to speak to. You also want to create an environment where those you are meeting with are comfortable enough to speak honestly and candidly. To get there, be sure to take the following five steps before, during, and after any skip-level meeting.
1. Plan Your Questions
Long before you announce your intention to host skip-level meetings and send out invitations, you should be planning the questions you ask. By planning out your questions ahead of time, you ensure that they align with your desired outcome and help minimize the chances of awkward or uncomfortable silences. Here is a list of common skip-level meeting questions to get you thinking:
Overall, how do you feel about your job?
Do you feel adequately challenged in your job? Are you doing something you enjoy/are passionate about?
What would allow you to be more successful than you already are in your role?
What do you think of the company/department/team's current goals? How do you feel you contribute to those goals?
Do you have any improvements, big or small, that you would like to see implemented?
Do you have any professional goals you are currently working towards or hoping to achieve in the future?
What's the best part of working with your manager?
Has there been a situation recently where you felt like your manager did a great job?
Has there been a situation recently that you wish your manager handled differently? If you were them, what would you have done?
Have you had conversations about your career with your manager? If so, how did it go? Did you appreciate having those conversations? If not, would you like to?
How can I/those in middle management help you and your team achieve their goals?
2. Give Your Managers a Heads Up
If you want your skip-level meetings to be a success, you absolutely need to be aligned with your team of managers. An air of mystery or a sense of secretiveness will set your managers on edge and likely do more harm than good. So, once you have defined the purpose of your skip-level meetings and have an idea of the questions you intend to ask, set time aside to explain your plans to your managers and be open to their questions or concerns.
3. Send Out a Detailed Invite Ahead of Time
Once you have a plan made and the support of your team of managers, it's time to send out an invite. This invite should not be vague. If it is, you will likely create unnecessary anxiety and fear. Instead, your skip-level meeting invite should briefly explain your intentions, provide reassurance, give an idea of the questions you will ask or topics you wish to discuss, and offer to answer any questions they may have.
4. Start the Meeting by Reiterating Your Intentions
When the time comes to meet one-on-one with employees, the best thing you can do is spend a few minutes at the beginning of the meeting reiterating your intentions, providing reassurance, and generally getting to know the person. This will set a tone for the discussion and make it more likely that the person will eventually open up when the conversation turns to more serious matters.
5. Schedule a Debrief Meeting with Your Managers
After the skip-level meetings have concluded, consider inviting your managers to a meeting to debrief and share the insights you gathered. This is also a great time to personally thank them for allowing you to meet with their employee and provide them with kudos for their leadership.