5 min read
The Anatomy of a Great Touch Base Meeting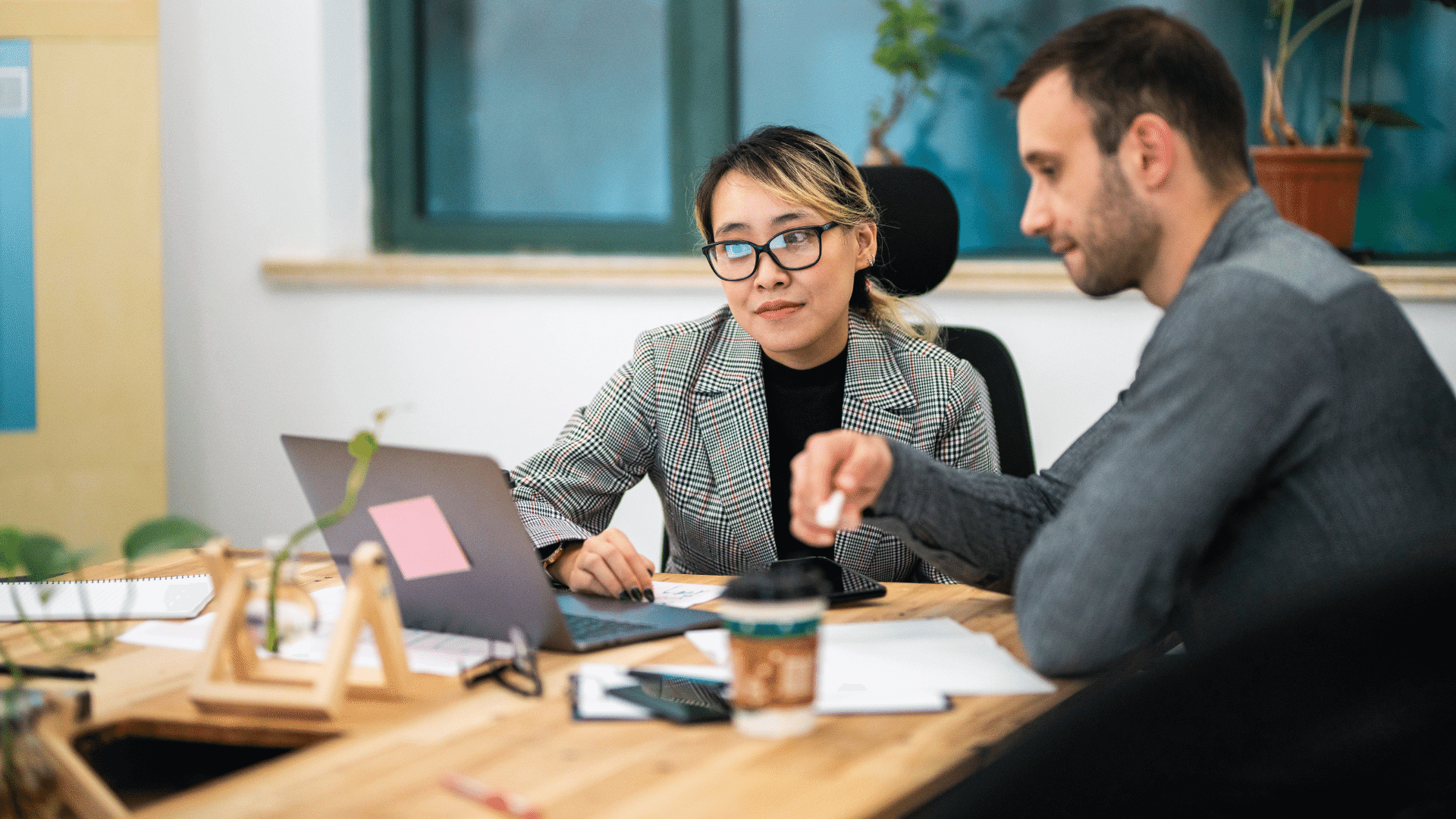 Whether you call them a one-on-one, catch-up, huddle, or touch base meeting, these are opportunities for each of your team members to discuss ideas, thoughts, challenges, and goals. It's one-on-one time dedicated to sharing feedback, updates, progress towards objectives, and accountabilities.
Creating the time, space, and opportunity for every individual on your team to have your focused attention can go a long way for engagement, productivity, and performance. However, to obtain the benefits of these meetings, just getting together isn't enough. Touch base meetings must be thought out and structured if they're going to add value.


Here are the critical elements of a great touch base meeting:
It's time well spent. The meeting has a purpose, you're prepared, and you've set expectations with your employee by sending all of the details in a touch base meeting email invite.


It's structured. The time during the meeting is organized around key topics but is flexible enough if specific discussions go longer than expected.


It isn't all business. There is time allotted to strengthening relationships and trust.


It's future-looking. Career conversations on their aspirations and development goals are addressed.


It's about them. In a great touch base meeting, the leader should listen more than talk. The meeting is a space where your employees have your undivided attention to discuss anything they'd like help with.


It's actionable. Your team member leaves with the support they need to keep moving forward.
To help you prepare for your next touch base meeting, we've compiled three examples with corresponding explanations to ensure your meeting hits all the critical elements of a great meeting.
Pre-Meeting: Touch Base Meeting Email Invite
To set the stage for your touch base meeting, you'll want to send a meeting invitation that includes all the relevant information, expectations, and any documents to be reviewed. Ensure your touch base meeting email invite has:
A detailed subject line
The purpose of the meeting
The expectations for the individual you're inviting
A brief closing statement reinforcing the goals and outcomes from the touch base meeting
Here is an example of a touch base meeting email invite: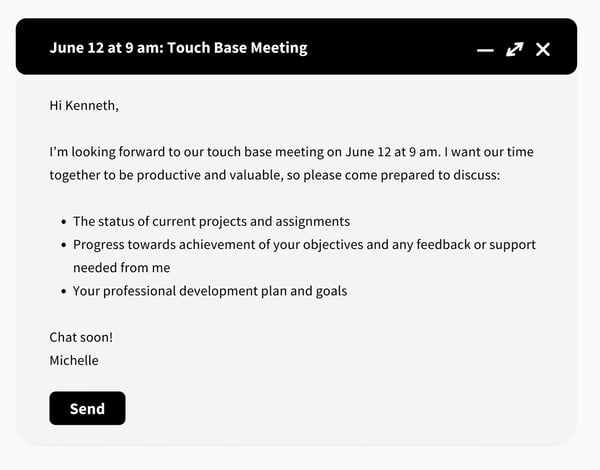 30-Minute Touch Base Meeting Template
To ensure it is a valuable and productive use of time, structure your 30-minute meeting in 3, 10-minute increments. Use our touch base meeting template, which uses the "three R's" for its structure: Rapport > Review > Readiness.
First 10 Minutes: Rapport
The first 10 minutes of a touch base meeting builds rapport and trust. Building a relationship with each employee and earning their trust is time well spent. Ask them questions about what they enjoy, hobbies, and what's important to them. Share your own stories to show the human side to you. The key is to be open, authentic, and take a sincere interest in them, the person, not just the employee.

Why This Works
Sadly, an HBR survey uncovered that 58% of respondents said they trust a stranger more than their manager. Dedicating a third of your touch base meeting to getting to know them, the whole them, and listening to their concerns and challenges build solid relationships anchored in trust. When you have a trusting relationship, your team members are more likely to come to you when there is a real problem, or they're struggling. This allows you the opportunity to help them in a bind or fix something before they resign.

Middle 10 Minutes: Review
Once you've established rapport, now it's time to get into the thick of the meeting. The next ten minutes or so are dedicated to reviewing the status of projects, objectives, and goals and providing feedback, encouragement, and help as they need it.

Why This Works
If you're regularly in touch with your team and projects and objectives, you shouldn't need more than ten minutes to cover these topics. Focus the time on support and feedback. Your employees want feedback from you and a touch base meeting is an ideal time to deliver it. A Gallup study asked, "I have received meaningful feedback in the past week." 84% who strongly agreed with that statement were engaged with their work as compared to only 22% from all other categories.

Last 10 Minutes: Readiness
The last 10 minutes are dedicated to development. Let them take the lead in discussing areas for improvement, their career ambitions, and where they want to grow. Allow them to define success for themselves. Dig deeper to uncover how you can best support their development and professional goals.

Why This Works
Career conversations go a long way in demonstrating you're invested and want to help your employee achieve their goals. These conversations motivate employees to do their best work and strive for professional goals. A survey by Right Management confirmed the link between career conversations and engagement. They uncovered that 82% of respondents said they would be more engaged in their role if their leader had a regular career conversation with them.


Post-Meeting: Follow-up and Action Items
For a touch base meeting to be deemed great, action items must be followed up on after the meeting to move closer to attaining objectives or goals. Draw up action items throughout the meeting with an owner, a clear description, and a deadline. Send these items in a post-meeting email or slack chat, so both you and your employee have your accountabilities in writing. Here is an example of a follow-up email after a meeting.