5 min read
What the Top Leadership Development Programs Have in Common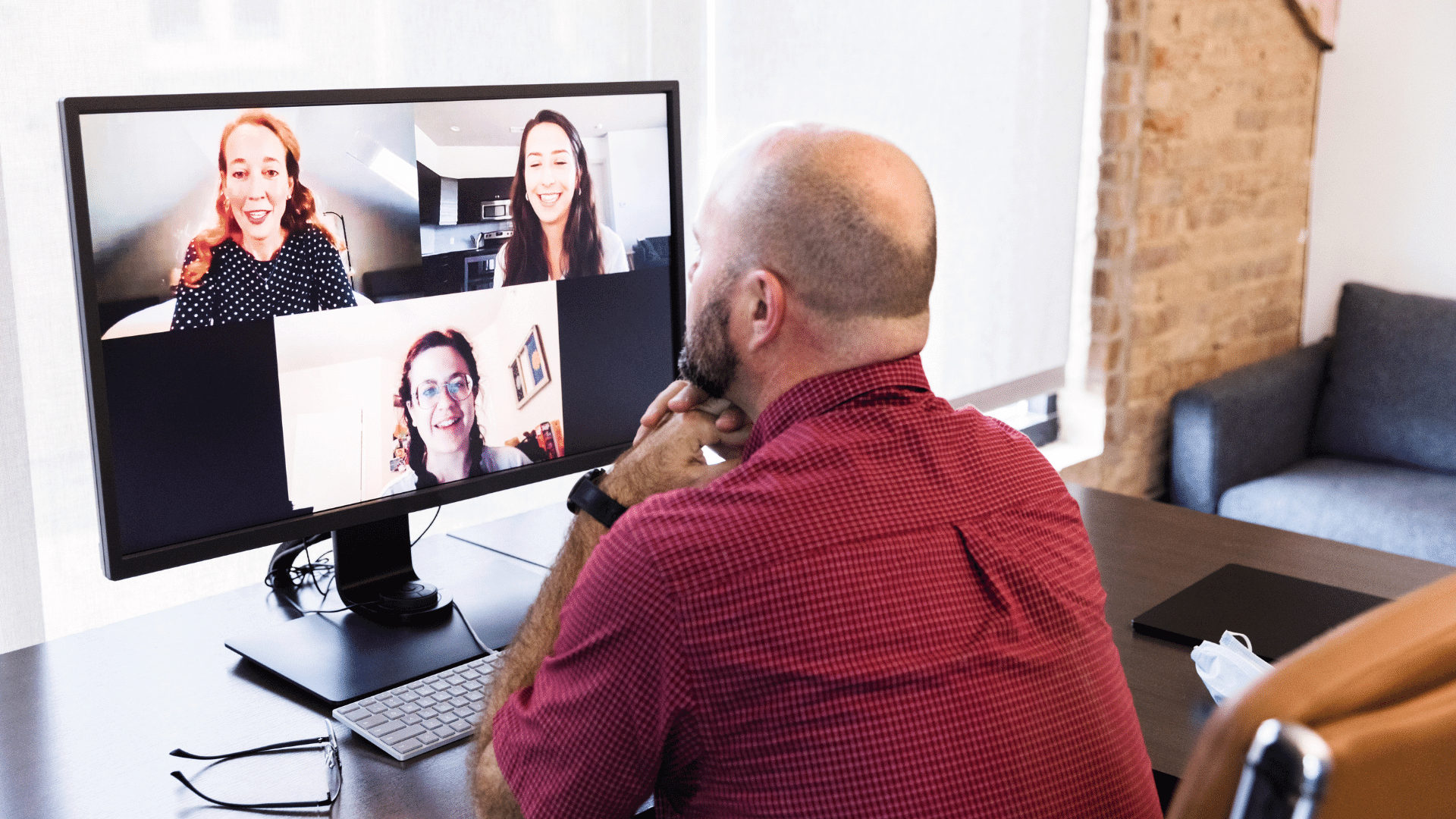 The events of the last few years have reshaped how we work, accelerated trends, and increased expectations of leaders and companies, putting pressure on leaders and organizations to adapt and change or risk remaining competitive and attracting and retaining talent. A study by Deloitte uncovered that 80% of respondents believed 21st-century leaders face "unique and new requirements," highlighting the need to upskill leaders.
However, knowing where to start when looking for a leadership development program can be overwhelming. A quick google search for "leadership program" provides 655 million options to explore. The abundance of choices leaves many asking, "What makes a great leadership development program?" This article explores what the top leadership development programs for experienced leaders have in common and the criteria you should use when selecting a leadership development training program to attend.
Top Leadership Development Programs Have These 6 Things In Common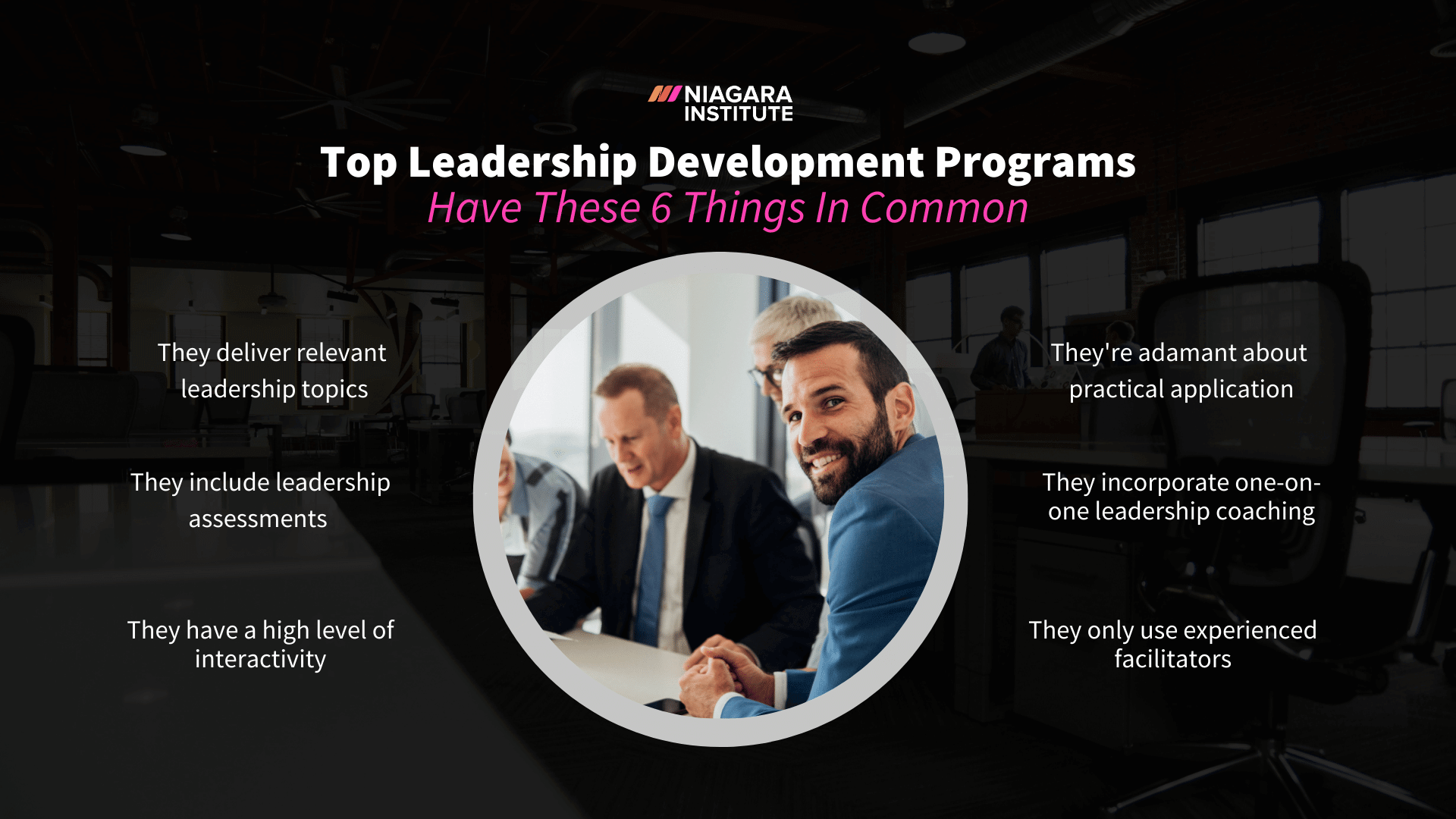 They Deliver Relevant Leadership Topics
To keep pace with the changing expectations of leaders by their employees, the topics of the leadership development program should focus on creating new competencies to adapt their approach to leadership. In addition, the top leadership development programs map their topics to their audience, as the skills a first-time manager needs differ from an experienced manager who is upskilled to meet new expectations or preparing to step into senior leadership.

In the case of a leadership program for middle managers, typically, the leadership topics for managers focus on developing essential leadership skills such as:
Leadership Communication - Uncover and acquire skills to lead, inspire, and influence others with clarity and purpose


Developing Others - Gain the ability to coach employees, deliver feedback, and delegate work, to pass on strengths, and build skills in those around them.


Leading Collaborative Teams - Creating and leading high-performance teams that drive results and collaborate with others across the organization to uncover creative solutions and work together to implement change initiatives.


Building Connections - Developing empathy and humility to build trusting relationships and creating an inclusive team culture that facilitates collaboration and teamwork in a safe environment.


Understanding Oneself - Understanding core strengths and leadership style to uncover and be mindful when motivations and mindset are holding them back and to shift approaches to deliver the best results.
They Include Leadership Assessments
Top leadership development programs that are designed for those who have been leaders for a while include a leadership assessment as part of their program. Typically, the assessment is 360-degree feedback. The participants receive input from their leader, peers, and employees to understand how others perceive them, where they excel, and where they should focus their development efforts.

As Dr. Steffen Raub, a Professor of Organizational Behavior, noted, "It is difficult for you to lead others if you do not know who you are, what you stand for, and how you come across to others around you." That's why the top leadership development programs include an assessment in their fees and make it central for self-reflection and learning throughout the program.
They
Have a High Level of Interactivity
When acquiring knowledge and developing new skills, it is nice not to have to go it alone. Therefore, top leadership development programs focus on engaging learning experiences where participants work together in small groups, have two-way conversations with the facilitator, and engage in activities that drive the learning home.

Leadership programs often include asynchronous learning, such as reading articles, writing in a reflection journal, or watching videos. However, the top programs focus their curriculum on synchronous learning. There are group discussions, polls, questions, facilitator-led dialogue, and scenarios where participants apply the knowledge alongside their peers.
They're Adamant About Practical Application
Along the same line as high levels of interactivity, the best leadership development programs focus on application as learning as much as knowledge transfer. Learning principles and acquiring new knowledge is needed to develop skill.
Still, without the ability to turn that knowledge into actionable skills back on the job, the value of a leadership development experience is diminished. That's why top programs not only teach you what you need to know but how to apply your knowledge and new skills in real-world job scenarios.
They Incorporate One-on-one Leadership Coaching
Leadership development programs that rank best-in-class typically include leadership coaching within their fees. These programs understand the value of working with a leadership coach one-on-one. A leadership coach works with each participant, using their assessment from the program, to help them uncover their strengths and weaknesses, where they should focus their development, and bring a greater self-awareness to their leadership and how others perceive them.
They Only Use Experienced Facilitators
Having a facilitator who has been in the same position as participants is invaluable to the learning process. That's why many top leadership development programs hire former executives to be facilitators. By doing so, these facilitators can share their stories of overcoming challenges and adversity in their leadership careers.
This level of storytelling embedded in the program engages and connects with participants but has also been found to help them retain the information 22 times more than just a lecture full of facts and figures.
Conclusion: How To Choose the Right Leadership Program
By design, leadership training helps leaders gain confidence and hone the skills necessary to lead in high-level positions successfully. However, not all leadership development programs are created equal.
To ensure the program you pick will meet your needs, ask for testimonials or speak with a past participant, ask for program evaluations, and use a training provider checklist.