6 min read
15 Positive Feedback Examples For Employees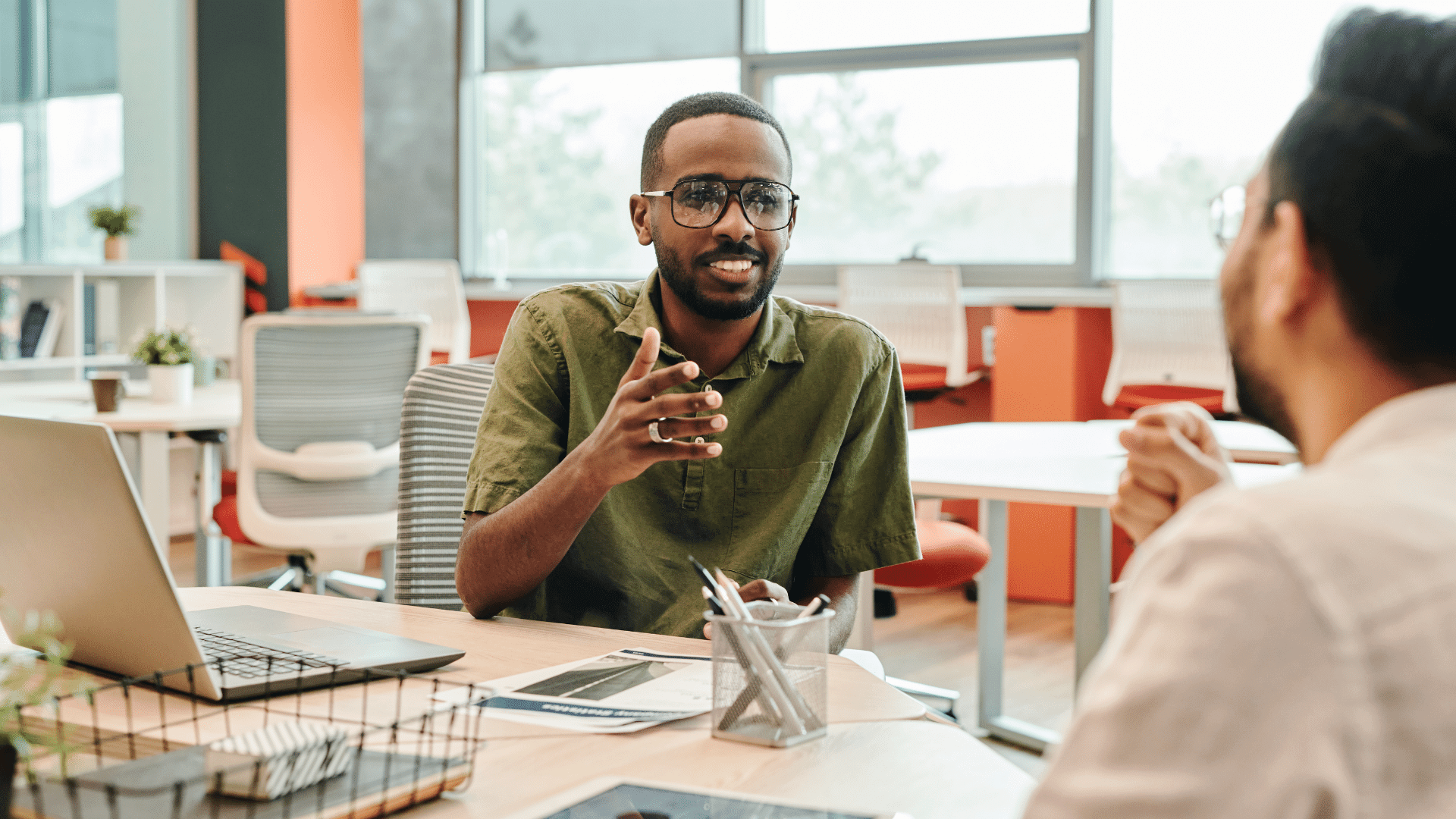 Employees crave feedback. They want to know if they're doing a good job, ways to improve, and where they stand with you.

Often, feedback is thought of as a corrective tool, overlooking its value for providing positive reinforcement. However, when an employee receives positive feedback, it can increase their motivation, confidence, and willingness to learn, grow, and contribute more to a team and an organization.
Employees' desire for positive feedback is confirmed in a survey where 69% of the respondents said they would work harder if they felt recognized for their contributions.
It can be hard to know what to say when delivering positive feedback. The key is to ensure the input is relevant, specific, genuine, timely, and loops back to how their actions resulted in a positive outcome. We've provided 15 positive feedback examples below to use with your employees to give you some ideas of exactly what to say.
Going above and beyond
This is one of the most common times for a leader to offer positive feedback to an employee. From time to time, employees need to go above and beyond to meet a deadline, resolve a customer issue, or solve an urgent problem.


Example: Resolving a Problem
"Thank you for all of your hard work to resolve the client's problem. It had a significant impact on the client and the likelihood we will be able to retain them. Your extra effort does not go unnoticed, and I want you to know that I truly appreciate your dedication."
collaborating with others
When an individual promotes collaboration among colleagues, there are fewer misunderstandings, better ideas are generated, and solutions to problems are created faster. Too often, individuals and teams act in silos, withholding information, resources, and skills from others in the organization. When you see an employee collaborating with colleagues, take this opportunity to reinforce this behavior by providing positive feedback.

Example: Helping Another Team
"Providing your time to the operations team when they were overwhelmed enabled us to hit our deadline for the client. They could not have done it without you."

Example: Building a Collaborative Team Environment
"You make others want to be part of this team. The way you seek to understand differing points of view and ensure everyone has an opportunity to share their thoughts contributes to building a positive team culture."

Example: Sharing Ideas
"I appreciate your contributions and insights you bring to our team meetings. They help us make informed decisions."
Communication
Effective communication is an essential skill needed for success. When you see a team member advancing their communication abilities, use one of the following positive feedback examples for employees.
Example: Speaking Up in a Team Meeting
"I was impressed when you spoke up during the team meeting. I know public speaking isn't your favorite thing, but the way you spoke with clarity and confidence, your message was understood and well received by your colleagues."

Example: Taking on a Difficult Conversation
"No one enjoys having a difficult conversation, yet you took it upon yourself to resolve the tension between the two departments. The way you found a positive outcome by listening to their concerns and perspectives helped us move forward."
Goals And objectives
Helping an employee set a professional goal and coaching them towards achieving it is one of the most satisfying parts of team leadership. Here are a few examples to inspire you to deliver positive feedback to an employee.

Example: Goal Creation
"The goals you have created and committed to for the next fiscal year will be a stretch, but I have the confidence that you will be successful. I'm here to support you in achieving them."

Example: Owning Their Accountabilities
"The way you upheld your accountability that we did not go over budget on the project is to be commended. It wasn't easy as several unforeseen circumstances required some creative thinking. However, by doing so, you have helped the organization hit our operating cost targets."

Example: Reaching a Goal
"Wow, you did it! Thank you for your dedication to ensuring we hit our timeline for launching the new product line. You played a significant role in the team's performance by successfully managing the project. Thank you!"
demonstrating positive behavior
One of the best and easiest ways to reinforce positive behavior is to recognize it. Use one of the following feedback examples to acknowledge an employee's positive behavior.

Example: Embracing Change
"I know implementing the new software system required changing almost all of your processes. Thank you for embracing this change and encouraging your teammates to do the same, even when it was difficult at the start. This new system will help us free up time, allowing us to focus more of our efforts on other projects."

Example: Ownership of the Outcome
"During the client call, the way demonstrated sound judgment and decision making to resolve their issue was impressive. You didn't give an excuse but instead took it upon yourself to ensure they were satisfied without having to bring me in. I know the client appreciated how you were able to find a resolution at the moment."

Example: Taking Initiative
"I heard from the head of sales that you polished their presentation deck they used with the prospective client. I didn't even know you did this. Thank you for showing initiative and providing your expertise to ensure we have the best possible chance of winning the business, even though it is outside your formal role."
Personal Growth
Encouraging an employee to learn and grow by taking on new challenges or developing a skill they struggle with will benefit you and the employee and should be acknowledged.

Example: Applying Coaching and Feedback
"I oversaw how you handled the constructive feedback you received from your teammate. I was pleased to see how you applied the suggestions I provided in our last one-on-one meeting on not getting defensive when others have input."

Example: Taking Responsibility for Their Actions
"It was disappointing that the team did not hit their sales target for Q1; however, I am encouraged by how you took responsibility for your actions without excuses and have made a plan to ensure success in Q2."

Example: Personal Development
"I have seen you quickly grow since you took on this stretch assignment six months ago. Looking back on how you were unsure if you could be successful to where you are today is to be commended. The amount of new skills you've learned and how you've applied them is amazing to watch."
Conclusion: You Should Be Delivering Positive Feedback to Employees
When you incorporate delivering feedback into how you manage your team, your team grows to expect feedback, changing how they perceive feedback, moving from fearing feedback to embracing it. Feedback should not be a tool for just correction but one for reinforcement and encouragement of desirable actions. Knowing how to deliver feedback is a skill, and like any skill, it can be developed with knowledge and practice. Attending a coaching skills or leadership development program can be a great place to start to develop the skills of delivering feedback.