5 min read
Welcome To The Team: 9 Things Leaders Must Do For New Hires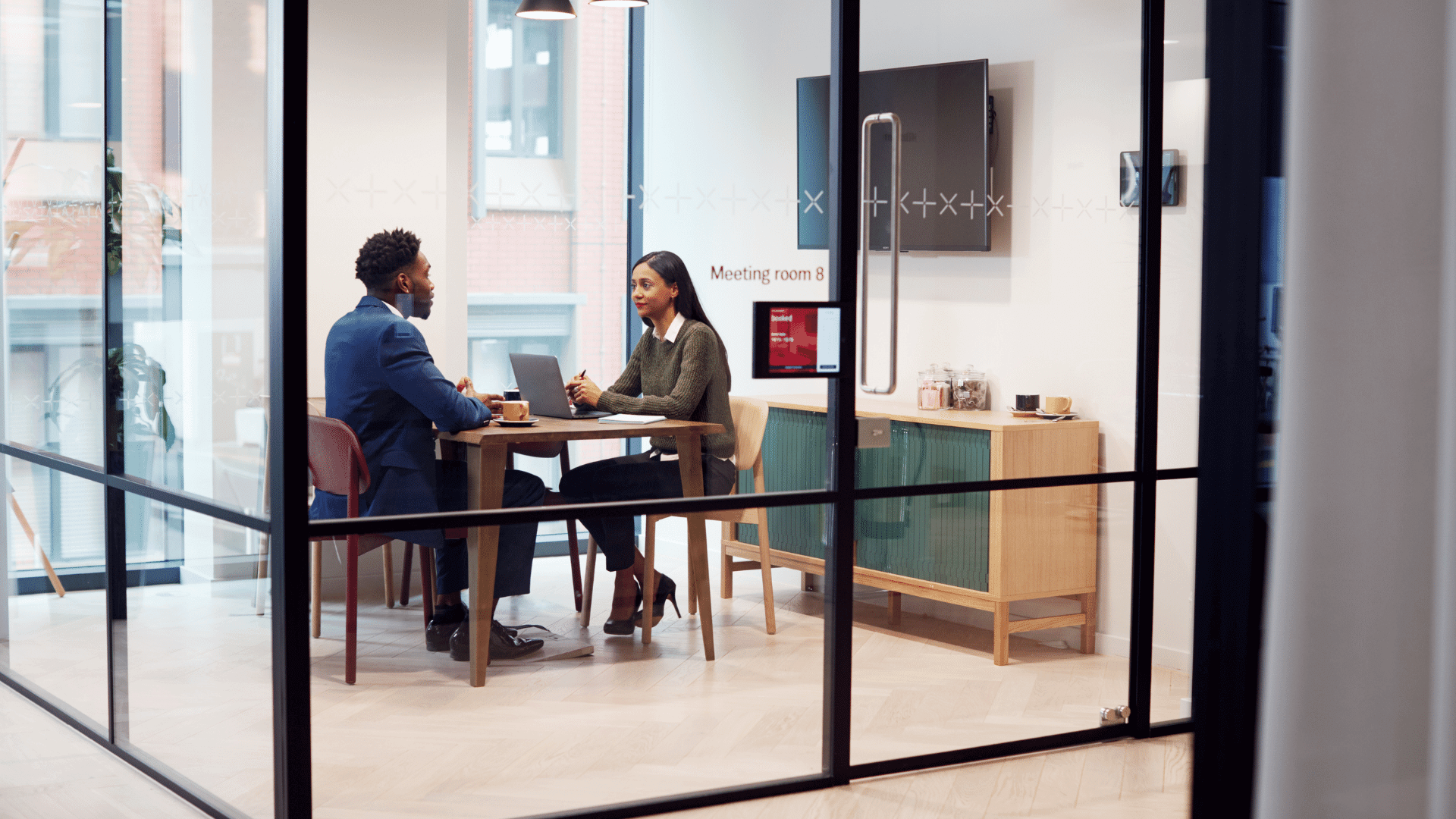 As the saying goes, "You only have one chance to make a first impression," and the first few days of work for a new team member set the tone for what they can expect from you as their leader.
That's why it's critical to create a plan to welcome them to the team and set them up for success from the get-go. Doing so has been shown that you can improve retention by up to 82% and productivity by 70% compared to those who leave onboarding up to chance.
To help you prepare for a new team member, we've compiled our list of 9 must-dos for leaders when welcoming a new hire.
How to welcome a new employee to the team
Send a Welcome to the Team Email
To kick off welcoming a new employee, you should send an email to inform the organization. This email should include their name, role, department, and starting date. To make it easy, use this welcome to the team email template.
Hi All,
I'm thrilled to announce that a new team member, [name], will join us to fill the role of [title]. [Name]'s first day will be [date].
[Name] will work with the [department] to help us [the impact of their role]. [He/She/They] has extensive experience in [industry or role specific] and brings a wealth of knowledge from [his/her/their] previous position at [former company].
As you're able, please introduce yourself to [name], and join me as we welcome [him/her/them] to the team at [company name].
Cheers,
[Your name]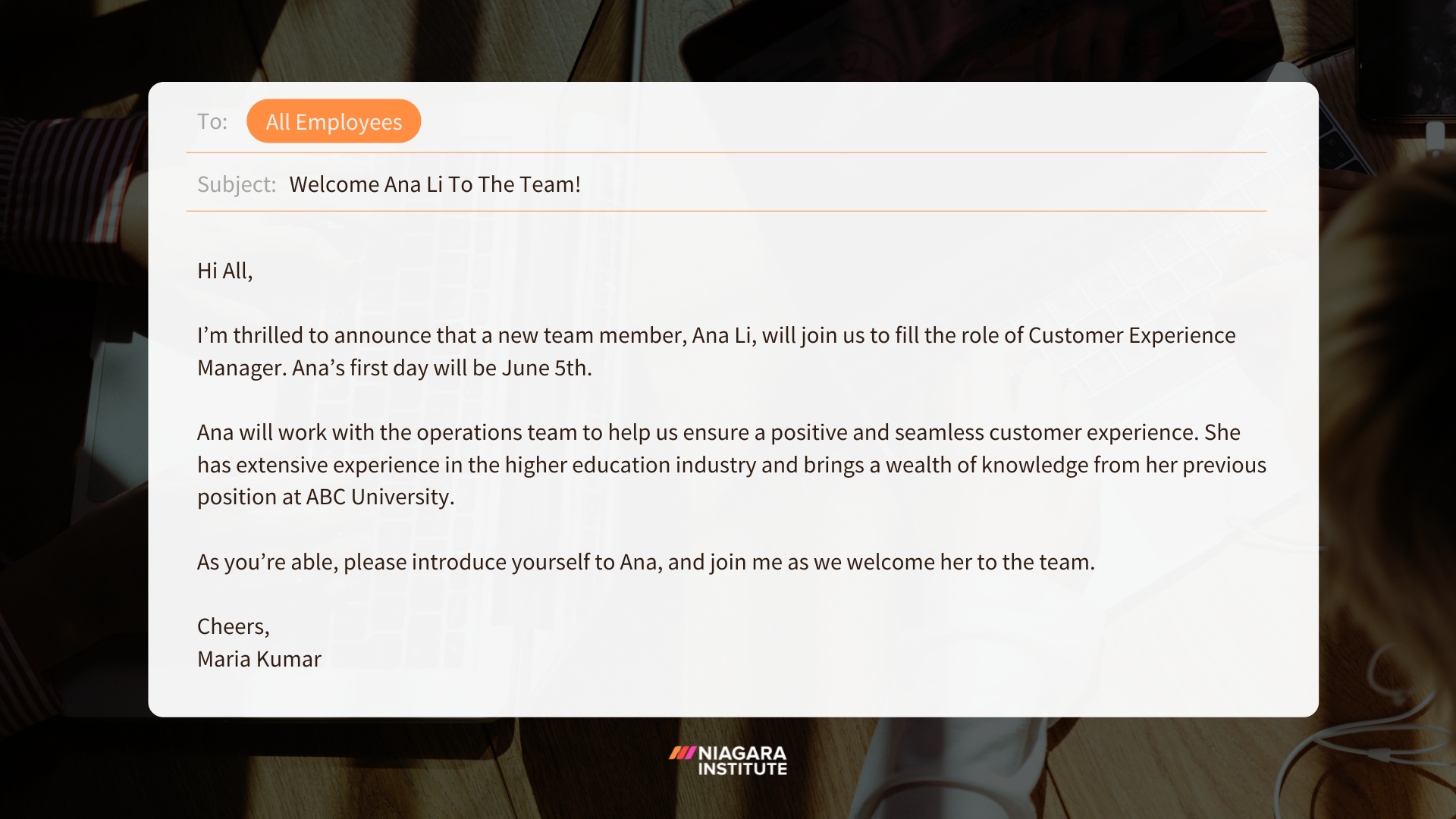 Provide a Bio Book
When you start a new job, it is overwhelming to remember everyone's name and roles. Creating a document that contains each person's photo, name, and role can be an invaluable resource for a new team member. This is especially helpful if your company works remotely, as new hires do not have cues about who sits where, like in an in-person setting.
Update Your Organizational Chart
If it's been a while since your company has updated the organizational chart, take it upon yourself to create one with the key contacts that your new hire will need to know. The organizational chart, in hand with the bio book, will help them understand who's who in no time.
Setup Ongoing 1:1 Meetings with Them
Knowing you have time in your new boss's calendar can alleviate some of the fear of starting a new job. Set up reoccurring one-on-one meetings with your new team member. During these meetings, be sure to address the following:
Review their role objectives, accountabilities, expectations, and what success looks like
In the first two weeks, co-create a 30-60-90-day plan with them
Provide direction and a plan for how they should spend their first week on the job
Clearly define the amount of autonomy they have, their work schedule, and availability expectations
Outline your team vision, how their role contributes to it, and the greater organization
Build rapport by getting to know them on a personal level
Discuss your leadership style, and how you lead the team, and ask them how they like to be led
Help them create immediate and short-term goals
Host a Welcome to the Team Get-Together
Whether it's a coffee break, team lunch, or a team-building event, hosting a welcome to the team get-together is an excellent way for teammates to get to know one another, form connections, and begin the process of building a relationship built on trust.
Assign Them a Buddy
Assign a team member to be a buddy to your new employees, as it can help them feel welcome and provide support and guidance through the first few weeks on the job. The role of the buddy is to support the new hire in getting acclimated to the team, the company, and some of the unwritten knowledge like the culture, behavioral norms, and expectations. In addition, the buddy can be a safe space for the new team member to ask questions they may feel uncomfortable asking you, their leader.
Create a Schedule for Training and Job Shadowing
Don't leave it up to your new team member to figure out what they need to do in the first few weeks on the job. Even the most experienced and motivated new hire will need guidance and direction. Create a schedule that includes any required training and opportunities to job shadow individuals who do a similar role or use the same tools they will use.
Get Feedback
Solicit feedback from your team on how the new team member is integrating into the team. See if there is anything you should address or need to clear up. Typically a new hire will be more open with their teammates than their leader if something isn't clear. So, in addition to asking your team members, get feedback from your new hire on how their onboarding process went, if there is anything you should change, and how they're feeling about their role and the team they will be working with.
Be Empathetic
Let's face it, starting a new job can be a stressful time for most people. For example, a LinkedIn report found that 80% of professionals experience nerves when starting a new job. In addition, they're worried that they won't get up to speed quickly enough (55%), won't be successful (48%), will regret changing roles (42%), won't make a good impression (32%), and their peers and leader will not like them (32%).
It's in your hands to help them overcome these feelings, and showing them a little vulnerability and empathy as their leader can go a long way. To help them, share stories about how you felt when you first started and some of the things you did to overcome these feelings. In other words, validate their feelings and reassure them you will be with them every step of the way.