5 min read
What Your First-Line Manager Training May Be Missing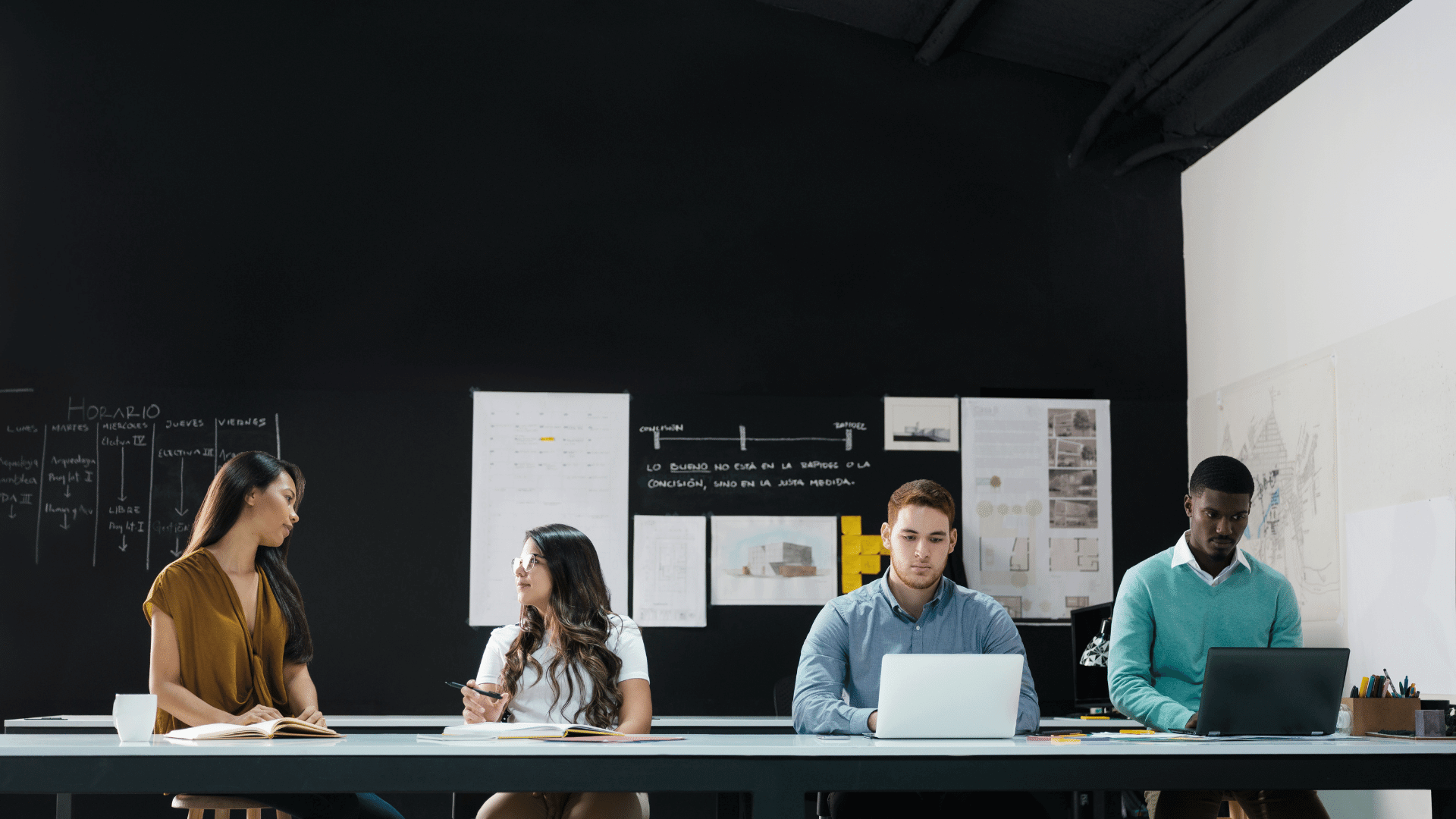 It's undeniable the importance and impact first-line managers have. For good or bad, these managers significantly influence employee motivation, performance, productivity, turnover, and an organization's culture. However, without the proper training (or any training), first-line managers are left to figure out leadership on their own, putting the performance of an entire organization at risk.
Given the significance of first-line managers, it's essential to understand who they are, what they're accountable for, and how best to train them. Let's jump in.
Table of contents
What Is A First-Line Manager?
First-line managers are responsible for supervising individual contributors and are the first point of contact for their direct reports. They have the closest contact with the workers who produce goods and services and contribute to the frontline running of a business. Typically they are accountable for training, employee development, and performance management of their people, as well as planning and deploying resources, communicating initiatives, ensuring policy compliance, and leading staff meetings.
In addition to their responsibilities to their employees, these entry-level line managers liaisons between middle management and the workers they oversee to ensure that management decisions, strategies, and initiatives are implemented at the frontline.
eXAMPLES oF fIRST-lINE mANAGERS
First-line managers are anyone who oversees one or more staff members who do not hold a people management position. Some standard titles and examples of line managers include:
Team Leader
Foreperson
Shift Manager
Office Manager
Assistant Manager
Branch Manager
Store Manager
Facilities Manager
Kitchen Manager
Nursing Manager



Training for First-Line Managers
The skills a line manager needs vary depending on their functional area and industry; however, there are fundamental leadership skills that are universal for every line manager. As front-line managers typically oversee the largest population of employees in an organization, it is imperative that they receive leadership training as they significantly influence the culture, retention, and employee experience in a company, impacting the overall success (or failure) of an organization.

With this in mind, as well as the shifting expectations of employees, here are the eight training topics to develop line management skills.


8 Topics for First-Line Manager Training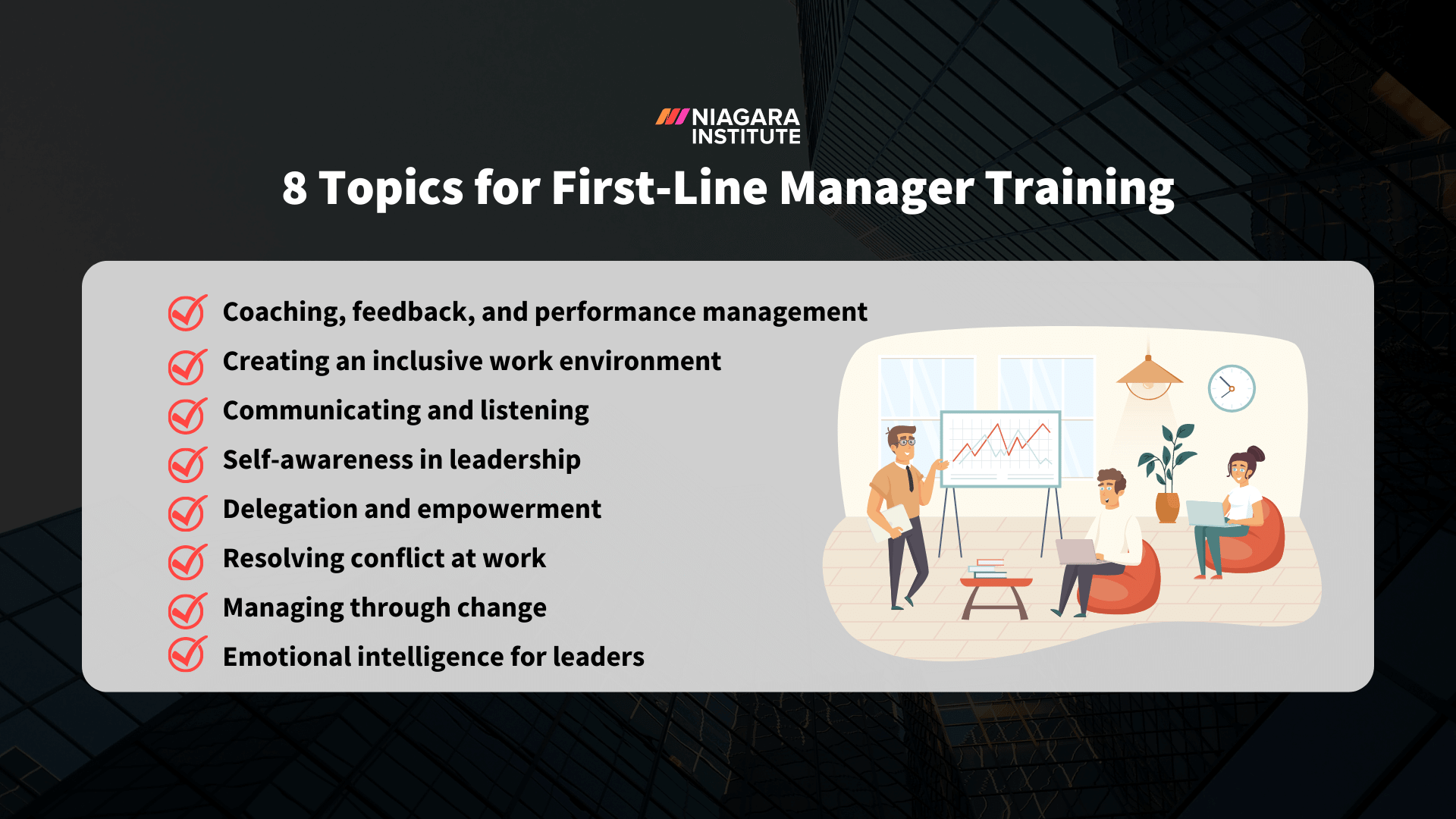 Coaching, Feedback, and Performance Management
Any first-line manager program should have a curriculum on understanding the link between people and performance and how to get the very best out of their team. Skill development should include how to provide coaching at the moment, deliver constructive feedback, and monitor and evaluate employee performance.


Creating an Inclusive Work Environment
With first-line managers typically overseeing the largest cohort of employees, for a culture of inclusion to thrive, it first must start with line managers. Unfortunately, many line managers are missing out on diversity, equity, and inclusion training.

For example, in a June 2022 study out of the UK, the majority (74%) of line managers did not receive any training around inclusion and LGBTQ+ workers. As Nishi Mayor, business director at Business in the Community, said, "Any business not providing LGBTQ+ training are doing themselves a disservice, as their talented employees will apply to an inclusive employer."


Communicating and Listening
Leaders at all levels, from the front line to the executive team, need ongoing training to amplify their communication and listening skills. Developing the skills to speak clearly, inspire action through communication, adapt communication style to audience and context, apply storytelling to drive relevance and engagement, and actively listen are critical to successful leadership.


Self-Awareness in Leadership
The best leadership development programs take an inward-looking approach and spend significant time on self-awareness. Front-line leaders need an understanding of their leadership style, core strengths and weaknesses, and vision for their leadership.


Delegation and Empowerment
Having the skills to effectively delegate and empower workers has always been important for first-line managers. However, with the rise of remote and hybrid work, the knowledge and skills to lead an empowered workforce and delegate and manage tasks have never been more critical.


Resolving Conflict at Work
Conflict is bound to happen at work. That's why training for front-line managers should include a curriculum that helps line managers understand their conflict management style and build the skills to resolve conflict in their teams.


Managing Through Change
When change is initiated, it typically does not fail due to poor strategy but due to poor adoption and buy-in. First-line managers, who most employees report to and look to in times of change, play the most vital role in influencing those around them to change.

Line managers are the ones who will lead their team through change; therefore, they require change management skills for the initiative to be successful. They must know how to communicate what's happening and how it will affect employees' day-to-day work, answer questions, and keep up the momentum, so the change initiative is completed.


Emotional Intelligence for Leaders
For first-line leaders to be optimally effective, they need the opportunity to learn and develop soft skills such as resilience, empathy, humility, and managing stress. It's increasingly important for leaders to develop these skills to help themselves and their teams. Gallup's State of the Global Workplace 2022 report uncovered that stress among workers reached an all-time high, beating the previous all-time high in 2020. That's why leaders must develop their emotional intelligence to demonstrate the skills of resilience needed to get through the tough times and empathy to be understanding and help their employees when they're struggling as well.
Conclusion
Having strong front-line leaders is essential to the overall success of an organization. From increased engagement and productivity to reduced turnover in a war for talent, the case is clear, an investment in first-line leadership training is a must. Looking for a trusted partner like Niagara Institute is a great place to start, as they have the knowledge and track record to create a first-line manager training program that covers all the competencies you need to develop.